Nerja has lots of places to eat. Some are great, some are not so great. Don´t waste time and money in the not so great ones, read on to find out which are the best. I´ve put them in areas, the old town means the area roughly East of the Balcon de Europa, the new town area is roughly West of the Balcon de Europa. Don´t necessarily think that where the locals go is good and where the tourists go is crap. Locals often don´t care about views or luxurious surroundings. They often want quick and cheap. Tourists usually want open air, great view and are rarely in a hurry. If a venue is popular with locals and tourists it means they have good food, service and/or nice views or surroundings.
Places to eat Tapas
Tapas can be any type of food but small portions of it. Typical tapas are Potato omelette (Tortilla de patata), pork in tomato sauce (carne con salsa de tomate) and Russian salad (ensaladilla). They´re usually free with a drink and are an excellent way to try lots of little dishes and be adventurous. The best tapas bars, in my opinion, are never fine dining but should be very simple and extremely fresh. They´re usually busy, noisy and are often brightly lit. I´ve grouped the old town tapas bars and the new town tapas bars so you can go from one to the other. Spanish people eat light in the evening and eat late, between 9 and 11pm in summer.
Old Town Area

Start at Taberna which is the first you come to from the Balcon.
La Taberna very Spanish looking, popular with tourists
El Pulguilla  do excellent small, grilled squid, popular with locals and tourists
Sevillano cute little corner bar, popular with tourists
El Redondo (Round Bar) Quirky bar. Same owners as Buddha Bar, popular with tourists and locals
New Town Area

Start at La Marina which is on the corner of La Marina square.
La Marina Fab for fish not much for meat lovers. Gets packed with locals and Spaniards from all over the area.
Pepe Moles great little tapas, popular with locals
---
About Breakfast
Breakfast is a big deal in Spain, especially here in the south where workers are legally entitled to a breakfast break during their work hours. That´s why banks, post offices, town halls etc are deserted between 9 and 10am and the nearby cafés are packed. There are lots of small cafés and bars around the Balcon de Europa that are always busy with locals and tourists having breakfast. Don´t be tempted to have a British/ Irish fry up as they usually serve awful bacon and hot dogs for sausages. If you fancy a fry up look at the British restaurants further down the list. The Spanish breakfast usually consists of
toast with butter, jam, sobresada (chorizo pate), olive oil and grated tomato (not all together obv.)
Croissants
Churros with chocolate or dipped in coffee
Sandwiches, ham, cheese, cured serrano ham
---
Fine dining
If you have a reason to celebrate or just like to treat yourself, these places are perfect.
Old Town Area
Unico  Great, short menu, lovely food and service. Small portions.
Fusion by Silvio Santogiacomo do an excellent tapas tasting menu paired with different wines. Very, very fancy (a bit too fancy for me)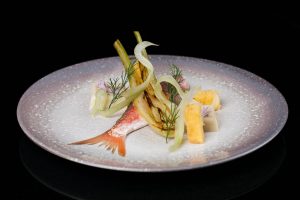 Oliva  consistently good. Eat inside for the best experience
Bakus cheaper than the others but just as good
Restaurante 34 Superb, plush little restaurant. Renowned locally. Great for a special treat. Try to get a table on the terrace.
Punta Lara Area
El Avalon Stunning views of Nerja from the terrace
---
Spanish (evening)
Spanish people rarely eat a big dinner in the evening, they have tapas instead. That´s why tapas bars are so numerous and Spanish restaurants are quite few and far between. You´ll also find them quite old fashioned (in a nice way) with quite dated menus as they had their hey day in the 70´s and 80´s.
Old Town Area
Rey Alfonso probably the best paella in Nerja to go with probably the best sea views.
El Niño famous for its suckling pig. All inside so best in winter or low season
New Town Area
---
Italian
Everyone loves Italian food. It´s cheap and everyone can find something they like on the menu whether it´s pizza, pasta, meat, fish or vegetarian.
Old Town Area
Pinocchio Great for groups. They can take big numbers without flinching and everyone can find something they like on their extensive menu.
Little Italy This place is ridiculously cheap. 3,50€ for a pizza and it´s really good too. Downside is there´s always a queue here waiting for a table, so that´s fine if you don´t mind eating whilst the queue stare at you like salivating hyenas.
New Town Area
---
Spanish (lunch)
As I said before the Spanish don´t have their main meal in the evening they have a big lunch. The restaurants below are beach restaurants known as  merenderos or chiringuitos. They do fish "espeto" which means skewered on bamboo and cooked on an open fire. They also do big paellas at lunchtime and Ayo is famous for "show cooking" their huge paellas in front of the public.
Burriana beach Area

Merendero Montemar  do the best paella on the beach every lunch time (1/1.30pm)
Ayo  His paella has very little in it besides rice. Go for the roast pork instead
La Torrecilla beach Area

---
Irish Bars
Irish bar means pints of the black stuff, Irish sports, live music and craic.
Old Town Area
The Harp Bar tiny bar on calle carabeo, live music
New Town Area
Buskers  Have live music on most nights from 10pm. Friendly and popular with locals
Irish Annie´s  Friendly and popular with locals, live music at weekends
Fitzgerald´s often have live music and they do Irish food.
---
British
For British food and sports.
Old Town area
The Cottage   this is an evening restaurant with no sports. Lovely garden terrace.
Coach & Horses  do a great fry up
New Town Area
Next to Capistrano village
La Raqueta Excellent British fry ups, fish & chips and lots of live music and they also do day trips. Great carvery in winter
Burriana Beach Area
---
Indian
Some excellent Indian restaurants have opened in Nerja in recent years. Check these out.
Old Town Area
New Town Area
Burriana Beach Area
---